"I am an invisible man. No, I am not a spook like those who haunted Edgar Allan Poe; nor am I one of your Hollywood-movie ectoplasms. I am a man of substance, of flesh and bone, fiber and liquids--and I might even be said to possess a mind. I am invisible, understand, simply because people refuse to see me."
- Ralph Ellison's "Invisible Man"
Candy Lynn Ford Webb

Wayne Ford, son of Harrison and Joyce Ford and Candy Lynn Ford Webb, daughter of Bruce and Delores Ford. The cousins visited Mount Vernon in 2018.

Family photo of C. Bruce and his children in Peoria, Illinois. Left to right, Glen, Candy Lynn, Bruce, C. Bruce (father), and Lois Ann, Cyd Ford Keser.

Couple outside their of their residence in Galesburg, Illinois.

Wife of C. Bruce Ford. Dolores was an outstanding and well-known educator in Galesburg, Illnois.

C. Bruce Ford, graduated with honors from Bradley University with a B.S. and M.S. degrees in mathematics. Bruce rose to the rank of master sergeant in the military in WWII. His career as a respected mathematician flourished, leading to his civilian eimployment with prominent companies such as, IBM Corp, Burrell, Liberscope, and McDonell-Douglas. He married Dolores Finely, an educator and the couple had five children, Bruce, Glenn, Cyd, Lois Ann, and Candy Lynn. His life is detailed in numerous chapters in, I Cannot Tell a Lie starting in Chapter 33.

Photo of Harrison Ford with his nephews Glenn and Bruce, sons of C. Bruce Ford.

Ford Family Reunion, Peoria Illinois.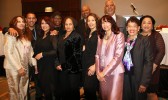 The siblings at the the 7th Annual Gala "Honoring our Heritage" in support of honoree, Elise Ford Allen, October 25th, Springfield, Illinois. Attendees left to right: Front, Joy Allen Stone, Tim Allen, his wife Patty, Barbara Randle, Angela Henry, Linda Allen B. Hollis, Carol Allen Adams, Candy Lynn Ford Webb. Black row, left to right, Anthony Randle, husband of Barbara Randle, Homer Henry, husband of Angela Henry and Mark Hollis, husband of Linda Hollis. Photo credit, James Bass.

Photo of Pastor Renty Fields Bythewood. He was the father of Harriet Ford, wife of Major George Ford. Pastor Bythewood was the pastor of Tabernacle Baptist Church in Beaufort, South Carolina. Renty was born a slave and raised in the trade of a tailor. When he gained his freedom, he became a minister and for 25 years was a prominent figure in his community. He died at the age of 82 and his body was buried in the churchyard north of the Tabernacle Baptist Church. (Research via DNA Ancestry communication/Angela Allen Henry). (Photo credit Candy F. Webb).