"I am an invisible man. No, I am not a spook like those who haunted Edgar Allan Poe; nor am I one of your Hollywood-movie ectoplasms. I am a man of substance, of flesh and bone, fiber and liquids--and I might even be said to possess a mind. I am invisible, understand, simply because people refuse to see me."
- Ralph Ellison's "Invisible Man"
C. Bruce Ford and Dolores Finley

C. Bruce Ford, graduated with honors from Bradley University with a B.S. and M.S. degrees in mathematics. Bruce rose to the rank of master sergeant in the military in WWII. His career as a respected mathematician flourished, leading to his civilian eimployment with prominent companies such as, IBM Corp, Burrell, Liberscope, and McDonell-Douglas. He married Dolores Finely, an educator and the couple had five children, Bruce, Glenn, Cyd, Lois Ann, and Candy Lynn. His life is detailed in numerous chapters in, I Cannot Tell a Lie starting in Chapter 33.

Wife of C. Bruce Ford. Dolores was an outstanding and well-known educator in Galesburg, Illnois.

Photo of Florence Ford, married to Dr. Cecil Bruce Ford. The couple had four children, Elise, Florence, Bruce and Harrison. Florence Ford was a well-known seamtress in Peoria, Illinois.

Photo of a young C. Bruce and Harrison at their home on Gale Avenue in Peoria, Illinois.

Younger picture of Bruce Ford.

Bruce and Dolores in Detroit, Michigan.

Couple outside their of their residence in Galesburg, Illinois.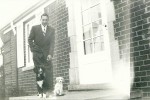 Family photo of C. Bruce and his children in Peoria, Illinois. Left to right, Glen, Candy Lynn, Bruce, C. Bruce (father), and Lois Ann, Cyd Ford Keser.