"I am an invisible man. No, I am not a spook like those who haunted Edgar Allan Poe; nor am I one of your Hollywood-movie ectoplasms. I am a man of substance, of flesh and bone, fiber and liquids--and I might even be said to possess a mind. I am invisible, understand, simply because people refuse to see me."
- Ralph Ellison's "Invisible Man"
Elise Ford and James O. Allen

A photo of Elise and one of her oppents at a panel discussion when she ran for May in 1973.

Family Photos, late 1960's. Standing Left to right back row: Carol, Melvin, Gregory, James Jr. Standing middle row, left to right: Florence Harrison Ford, Elise and James Sr. Sitting on floor left to right Joy (Timothy below), Janet, Norman, Linda (holding Barbara), Tanya, Angela.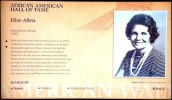 Plaque detailing Elise F. Allen receiving the African American Hall of Fame award in Journalism, 1991.

Photo of Elise at Roosevelt Magnate School where the Elise F. Allen Award is presented for students who exhibit high academics, leadership, community service and high academics. Photo by Elijah Sansom.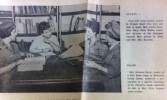 Elise became the first black Girl Scout board member, Peoria Girl Scouts (1968-1973);

Elise and James Allen with daughters, left to right: Janet, Angela, James O. Allen, Elise F. Allen, Cynthia, Barbara.

Photo of Elise at board meeting for the Girl Scout Troop she founded in Peoria, Illinois..

Elise and James Allen at a formal event, Peoria, Illinois. The couple is in the front row, third and fourth from the right.

James and Elise dressed for church. James was always known to wear a bow-tie. They are the parents of Carol Allen Adams, James Allen Jr., Gregory Allen, Linda Allen B. Hollis, Joy Allen Stone, Janet Allen, Norman Allen, Angela Allen Henry, Barbara Allen Randle, Timothy Allen, Matthew Allen.