"I am an invisible man. No, I am not a spook like those who haunted Edgar Allan Poe; nor am I one of your Hollywood-movie ectoplasms. I am a man of substance, of flesh and bone, fiber and liquids--and I might even be said to possess a mind. I am invisible, understand, simply because people refuse to see me."
- Ralph Ellison's "Invisible Man"
Major George Ford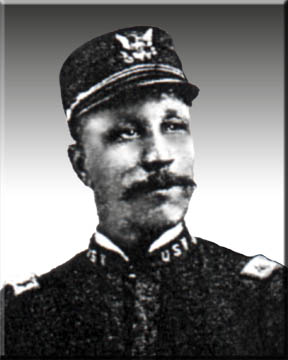 Photo of Major George Ford in his military uniform. He was a Quartermaster Sergeant when he was honorably discharged on September 11, 1876, from the 10th Calvary. He was commended in General Orders No. 53, Series1874, Fort Sill for acts of good judgement and gallantry in action. His commanding officer wrote on his discharge papers, "character excellent, good and faithful soldier."
On Nov. 9, 1878, George Ford was appointed as superintendent at Chattanooga National Cemetery in Tennessee but was transferred shortly afterwards to Beaufort National Cemetery in South Carolina. There he soon met and married Hattie Bythewood and started a family. He was superintendent at Beaufort for roughly 15 years, until 1894, when he was transferred to Fort Scott National Cemetery in Kansas.
During the Spanish American War he took a short leave of absence and served with the Second Battalion of the 23rd Kansas Volunteers. In 1904, after roughly 10 years at Fort Scott, he was transferred to Port Hudson National Cemetery in Louisiana. By that time his family had grown to include 7 children. Two of his sons went on to graduate from Meharry Medical School and served in World War I.
His tenure at Port Hudson National Cemetery was short-lived, one of his shortest — two years, as he was transferred, again, in 1906 to Camp Butler National Cemetery near Springfield, Illinois. He spent the remainder of his career at Camp Butler National Cemetery, retiring on Oct. 20, 1930. He enjoyed a long 52-year career overseeing five national cemeteries. He died on June 30, 1939 at the age of 91 and was buried at Camp Butler National Cemetery.