"I am an invisible man. No, I am not a spook like those who haunted Edgar Allan Poe; nor am I one of your Hollywood-movie ectoplasms. I am a man of substance, of flesh and bone, fiber and liquids--and I might even be said to possess a mind. I am invisible, understand, simply because people refuse to see me."
- Ralph Ellison's "Invisible Man"
Grave headstone Dandrige Smith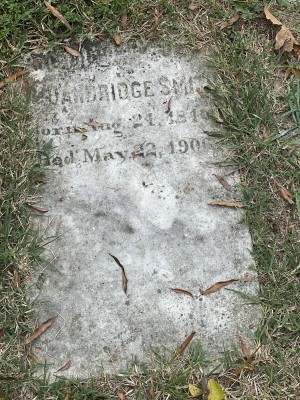 Grave headstone of Dandrige Smith, son of Jane Ford and Porter Smith, grandson of West Ford. He was the husband of Annie Arnold Smith, Gum Springs first black schoolteacher. The headstone is located behind the Gum Springs Museum in the old Peake Family Cemetery. (Photo credit Mark Hollis for WFL).