"I am an invisible man. No, I am not a spook like those who haunted Edgar Allan Poe; nor am I one of your Hollywood-movie ectoplasms. I am a man of substance, of flesh and bone, fiber and liquids--and I might even be said to possess a mind. I am invisible, understand, simply because people refuse to see me."
- Ralph Ellison's "Invisible Man"
Mount Vernon Plantation in ruin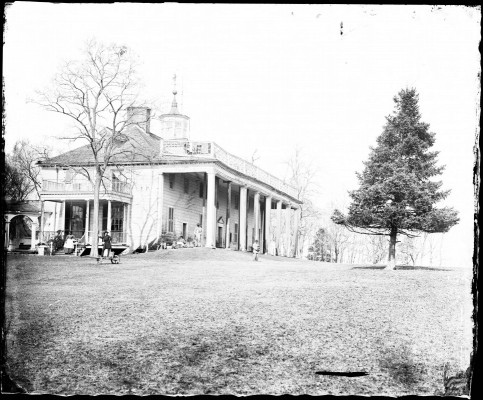 Photo of the Mount Vernon Plantation when West Ford was a caretaker there. (Photo courtesy of MVLA). Pamela Cunningham founded the Mount Vernon Ladies' Association of the Union and wanted to save the home of George Washington from dilapidation. After convincing John Augustine Washington III to sell the properrty, the organization purchased the mansion and two hundred acres. The MVLA took over the operation of the estate in 1860. West Ford was instrumental in helping the organization with the reconstruction of the mansion house and surrounding structures (I Cannot Tell a Lie, Chapters 8, 17).