"I am an invisible man. No, I am not a spook like those who haunted Edgar Allan Poe; nor am I one of your Hollywood-movie ectoplasms. I am a man of substance, of flesh and bone, fiber and liquids--and I might even be said to possess a mind. I am invisible, understand, simply because people refuse to see me."
- Ralph Ellison's "Invisible Man"
Mount Vernon Plantation 1937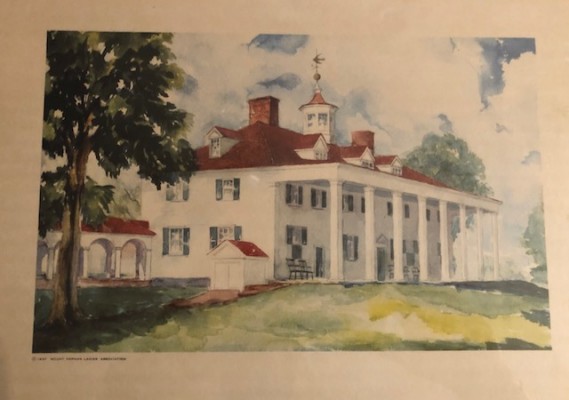 A 1937 painting of the Mount Vernon Mansion (from the MVLA). George Washington's father, Augustine Washington, built the home in 1734. George's older brother, Lawrence lived at the property from 1741 until his death in 1752. In 1954, George Washington took over the property, leasing it and began making improvements. He expanded the house by raising the rool to make the Mansion two and a half stories high in 1758. In 1762, he inherited Mount Vernon and continued working on the Mansion. In 1774, he began to add the north and south wings, the cupola and piazza to create the structure we see today. West Ford came to the plantation to live in 1802 (I Cannot Tell a Lie, Chapter 8).