"I am an invisible man. No, I am not a spook like those who haunted Edgar Allan Poe; nor am I one of your Hollywood-movie ectoplasms. I am a man of substance, of flesh and bone, fiber and liquids--and I might even be said to possess a mind. I am invisible, understand, simply because people refuse to see me."
- Ralph Ellison's "Invisible Man"
Memorial Stone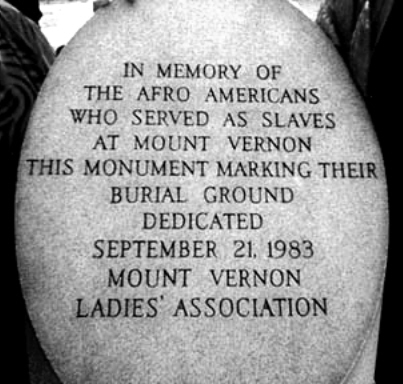 This is a moument placed in the Mount Vernon Slave Cemetery titled "Life Unfinished". The slave cemetery is considered sacred ground for the slaves and freed blacks who worked at the plantation in the 18th and 19th centuries. Folklore states that their bodies were buried with their feet towards the east where the river runs.The Slave Memorial at Mount Vernon was designed by students attending the architectural school at Howard University. Photo by Joy Allen from LABH collection.