"I am an invisible man. No, I am not a spook like those who haunted Edgar Allan Poe; nor am I one of your Hollywood-movie ectoplasms. I am a man of substance, of flesh and bone, fiber and liquids--and I might even be said to possess a mind. I am invisible, understand, simply because people refuse to see me."
- Ralph Ellison's "Invisible Man"
Old Tomb George Washington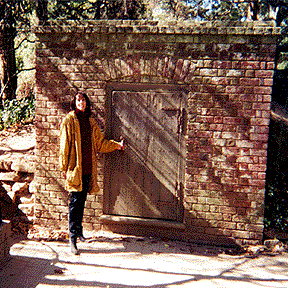 Photo of Linda at the old tomb of George Washington on the Mount Vernon plantation. There are two family tombs located at Mount Vernon. The "old tomb" was the original family crypt, however, in Washington's will he designated that a larger burial vault be built. The family members were moved there in 1831. West Ford was instrumental in working with George H. Duffey on the new vault and removal of George Washington's body (I Cannot Tell a Lie, Chapther 14). Ford oral history states that West Ford was placed in this tomb when he died on the plantation. (I Cannot Tell a Lie, Chapter 20). Photo by Janet Allen, from LABH collection.